| | | | |
| --- | --- | --- | --- |
| Restaurants | Hotels | Photos | SXM Map |
| | |
| --- | --- |
| Orient Beach, home of the Club Orient naturist resort, has something for everyone. The northern end starts off mostly clothed and people wear less and less until they reach the southern end where clothing is optional throughout the resort: beach (of course), boutique (why not), and restaurant (yikes!). Don't let the, shall we say casual, atmosphere fool you as there are some very good restaurants on the beach. Kakao Beach and others at the northern end all have fine restaurants and snack bars for lighter fare, but also beach chairs, umbrellas, beach boys, boutiques, massage stations, and more. To the southeast the beach runs past various smaller shops and restaurants. These are smaller places, with smaller menus, and smaller prices, but with plenty of chairs and umbrellas for a relaxing day at the beach. The last thing on the beach is Club Orient, the naturist resort. At night La Place in Orient Village comes alive with loads of restaurants and frequent bands. The reconstruction that affected all restaurants between Pedro's and Kontiki is now complete. | |

Want to see it all? Go to the southern end of the beach, no seriously, stop on Hope Hill for a view of all of Orient out to St Barts. some food and drink at Paradise View. There are shops for clothing, local products, cold drinks, and duty-free alcohol. Next door is Local Rums & Spirits where Bernadine offers tastings of local rums, chutneys and more, while tending to abandoned animals. Almost across the street is Rancho del Sol, with the same great view of the wide sweep of Orient Bay. On the left is Coco, photographer extroadinare. She patrols the beach and restaurants taking photos, if you wish.

At night most of the beachside establishments close and the action moves to Orient Village. There are several restaurants here, but Table d'Antoine with its Bistro Chic cuisine seems to stand out from the crowd, although it's a good crowd. Just south of Orient Beach is L'Embouchure Bay or Galion Beach, voted best place to take your kids on the island. One of the reasons is Chez Pat, a great beach bar on a calm and beautiful beach with great windsurfing.

To the south is Oyster Pond, the home of Oyster Bay Beach Resort. This large resort has its own restaurants and has attracted several more to the neighborhood. Even a little further south is Dawn Beach, good snorkeling and boogie boarding, but now subsumed into the Westin Resort. In between them is Busby's Beach Bar and Daniel's by the Sea, beach bar by day and fine Italian cuisine at night. Next door is Big Fish, a little bit of South Beach here in the Caribbean.

Click on the restaurant names on
the map to jump to their website,
if they have one. If not, you will go
to the restaurant list on this page.

Print this page and take it with you.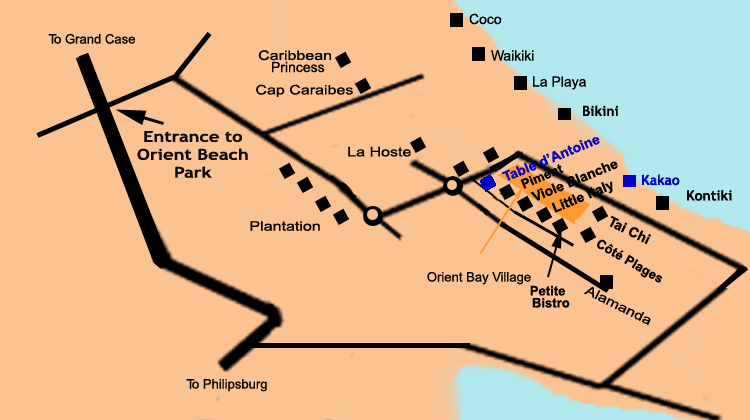 Restaurant
Phone
Cuisine
Location
Big Fish
543-6288
Seafood, steaks, sushi
Dawn Beach
Chez Pat
Tropical Wave
87 37 25
Beach bar
L'Embouchure
Galion Beach
Daniel's by the Sea
Mr Busby's Beach Bar
543-6828
Beach Bar by day
Italian at Night
Dawn Beach
Kakao Beach
87 43 26
International/Vietnamese
Orient Beach
Rancho del Sol
51 12 12
French/International/Pizza
Orient Beach
Table d'Antoine
52 97 57
French
Orient Village
Tropical Wave
Chez Pat
87 37 25
Beach bar
L'Embouchure
Galion Beach
Aloha
French
Orient Beach
Astrolabe
87 11 20
French
Orient Beach
Aura
543 6700
French
Oyster Pond - (Westin Resort)
Bikini Beach
French
Orient Beach
Boo Boo Jam
Beach Bar
Orient Beach
Captain Oliver's
87 30 00
French
Oyster Pond
Coco Beach
87 34 62
Beach Bar
Orient Beach
Côté Plages
52 47 37
French
Orient Village
Fiesta Mexicana
Beach Bar
Orient Beach
Kontiki Beach
87 43 27
International
Orient Beach
Little Italy
?
Italian
Orient Village
Palm Beach
690 35 99 06
French
Orient Beach
Paradise View
54 27 23
French
Orient Beach
Papagayo
87 33 85
Nude food
Orient Beach
Pedro's
Beach Bar
Orient Beach
Petite Bistro
?
French
Orient Village
Le Piment
690 40 09 99
Italian
Orient Village
Pizza Top
87 30 50
Pizza
Oyster Pond
Plantation Café
87 52 04
French/Creole
Orient Beach
Le Planteur
29 53 21
French
Oyster Pond
La Salsa
Beach Bar
Orient Beach
Tai Chi
87 73 98
Asian/Sushi/Fish
Orient Village
Voile Blanche
?
French
Orient Village
Waikiki Beach
87 43 19
International
Orient Beach
Yvette's
87 32 03
Créole
Orleans

Print this page and take it with you!
From the US, French phones require 011 590 590 in front of the six digits.
The seven digit Dutch numbers require 1 721 in front of the digits.